Airplane manufacturer Boeing announced that it has entered into a patent and technology license with Healthe. Based on the collaboration, Healthe will produce an UV wand designed by Boeing to sanitize airplane interiors.
"The UV wand is designed to be more effective than similar devices. It quickly disinfects surfaces on an airplane and further strengthens other layers of protection for passengers and crew," said Mike Delaney, who leads Boeing's CTI efforts. "Boeing spent six months transforming an idea for the wand into a working model, and Healthe will now take that prototype and make it available to the world at large."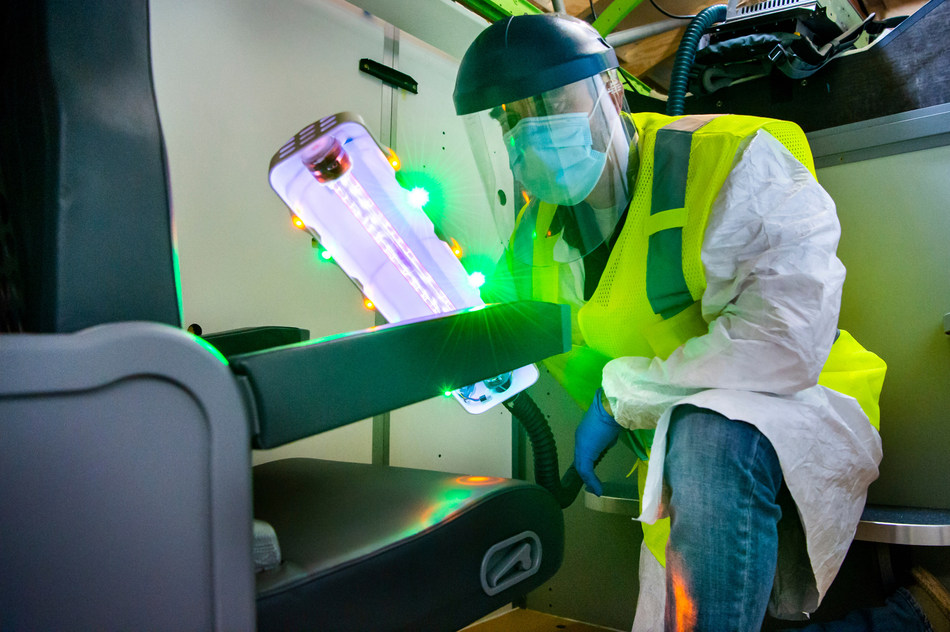 (Image: Boeing)
Healthe will produce and distribute the commercial wand, helping airlines and potentially others combat the coronavirus pandemic. The technology could be available for airlines in late fall. The device is an addition to sanitizing and protective measures already in place, which include the use of high-efficiency particulate air filters that trap more than 99.9% of particulates and prevent them from re-circulating back to the cabin.
Healthe said that it will manufacture the UV wand with its UVC and Far-UVC 222 light solutions for effective disinfection while protect users from the hazardous radiation. The UV wand uses 222 nanometer UVC light, which has been proved by researches to effectively inactivate pathogens. .
Using the self-contained apparatus that resembles a carry-on suitcase, crews can pass UV light over high-touch surfaces, sanitizing everywhere the light reaches. The UV wand is particularly effective in compact spaces and sanitizes a flight deck in less than 15 minutes.
Boeing also solicited feedback from multiple industry sources, which aided in quickly validating this technology. Etihad Airways was the first to evaluate the device, and the UV wand was demonstrated on the Etihad 787-10 ecoDemonstrator airplane on August 21.